Raider Digital Ballast 400 Watt Dimmable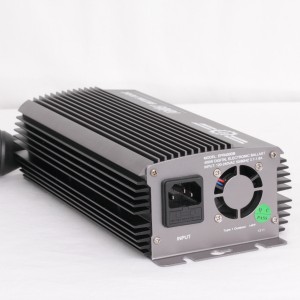 Dimmable 400 watt digital fan cooled lightweight ballast.
The EP Raider electronic ballast has features that will suit both the hobby and professional gardener alike, as it helps control the light your indoor garden needs. 
Gives energy saving options to run at 100%, 75% or 50% power using the dimmer switch.   This helps when temperatures get uncomfortably hot as you can turn down the power thus reducing the heat given off by the bulb but still supplying some light to the plants.  Not an ideal permanent situation but great for a temporary measure.
Runs both HPS and MH bulbs
Power factor of 99.9%.  Higher efficiency ballast giving higher output than magnetic ballasts of the same size.
The EP Raider electronic ballast includes a resin-cased circuit board and a sealed bearing fan to ensure it runs cool and lasts the test of time.
3 year warranty