HOMEbox AR120 Ambient Tent
Out of stock......................

120 x 90 x 180cm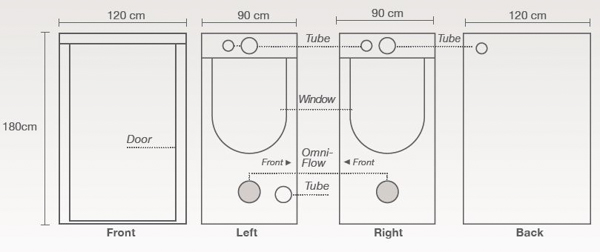 This new ingenious design provides just over a square meter of growing space, but in rectangular form. Why? Because it's ideally proportioned to exploit every photon from a 600 Watt HID  (H.P.S. or M.H.)  grow light housed in a rectangular reflector. The HOMEbox Ambient R120 has been tailor-made to create an evenly lit and intensely productive grow space thanks to both its perfect proportions and PAR+ super reflective lining.
An air-cooled reflector can be independently ventilated thanks to the twin 160mm air-ports on either side. A generous 200mm duct in the roof facilitates easily mountable garden ventilation as well as two 200mm OmniFlow directable air vents and a 160mm duct for additional active ventilation if required.
With all HOMEbox grow tents this is very well designed and manufactured and comes with a one year warranty.
Assembled size: 120 x 90 x 180cm
Additional Ducting Holes: 160mm. 2 times
Cord Outlet Holes: 100mm, 3 times
OmniFlow-Airvent (Inlet Holes): 200mm, 2 times
MicroMesh-insect screens with 700 micrometre mesh size
Optimal reflective PAR+ inner lining for faster growth and better yields
Large viewing window on the front
Super stable frame rod (22mm)
Total blackout zippers - light excluding zippers
After sealing, the unit is fully sealed and impermeable to light