HOMEbox Vista Triangle Plus (Tall)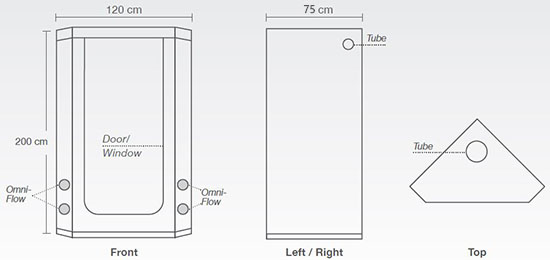 An Indoor greenhouse for corners is now also available in a 200cm high version – the HOMEbox Vista Triangle+. The triangular base not only lets you make optimum use of every corner of the room for an indoor grow house, but also provides your plants with more room for growth.
This triangular indoor greenhouse also has a large window in the front section that gives you a large view inside the tent, without compromising the inside climate.
■ High-tech design and technology from Germany
■ Step-free, barrier-free access possible
■ sturdy, impenetrable, and stain-resistant materials for a long service life
■ Hard-wearing outer material
■ Removable, waterproof base
■ Solid base attached to the tent with a zip all the way around
■ Tubes: + 160 mm: 1 x top + 100 mm: 1 x left, 1 x right
■ OmniFlow-Airvent: 4 x 100 mm (front)
■ MicroMesh-insect screens with 700 micrometre mesh size
■ Optimal reflective PAR+ inner lining for faster growth and better yields
■ Large viewing window on the front
■ Super stable frame rod (Ø 22 mm) - reinforced, precisely manufactured plastic connectors
■ Total blackout zippers – light-excluding zippers
■ After sealing, the unit is fully sealed and impermeable to light
■ All individual parts can be replaced
■ Maximum Capacity: 40 kg