Homebox AQ200 Ambient Tent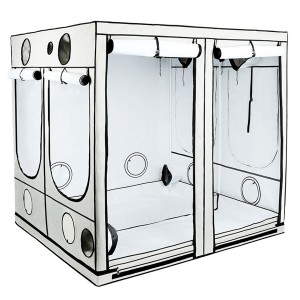 On the above diagram the side windows are roll up openings.
It's the perfect growing cube – designed for dedicated growers, 200 centimetres wide, long and high. These formidable proportions provide the ideal home for up to four 600 Watt HID  (H.P.S. or M.H.)  grow lights – perfect to illuminate the four square meters of grow space. Of course, all that lighting inside the PAR+ optimised interior makes for a pretty intense growing environment, so thankfully the HOMEbox Ambient Q200 boasts a generous array of ventilation ports including twin 200mm air-ports on each side for independent air-cooled reflector ventilation. This affords growers the ability to optimise garden temperatures without stripping too much relative humidity through over-ventilating the garden itself.
Additional side access, twin 250mm roof ventilation ports and six OmniFlow directable air vents give the professional grower all the tools needed in order to create and maintain the most productive and rewarding indoor garden imaginable.
:
High-tech German design and engineering

Rugged, plant-safe materials ensures long working life

All parts are replaceable

Removable, water-resistant flooring

Solid base attached to the tent with a zip all the way around

Double side access

Inlet and outlet tubes:
100 mm: 1x right, 1x left, 2x Roof
150 mm: 1x right, 1x left
200 mm: 2x right, 2x left
250 mm: 2x Roof

6 x 200mm OmniFlow air vents 2x Back, 2x left and 2x right

700-micron MicroMesh bug-screen

Tough canvas outer shell

PAR+ super reflective lining promotes faster growth and higher yields

Super strong 22mm diameter tent poles—reinforced, stronger plastic corners

Once closed, unit is entirely sealed and virtually lightproof

Total-Blackout Zippers – no need for Velcro flaps

Maximum Capacity: 150 kg
Please note: This tent is too heavy for rural delivery, we can send it to your nearest depot and you will need to pick it up.