Nulife Mega Yield 4L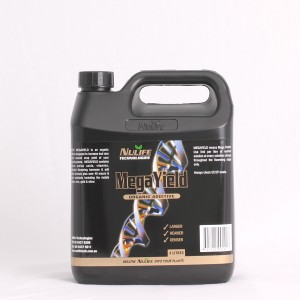 No longer available. Try Grostorm.
Organic flowering additive for increased yields.
One of our most popular additives, Nulife Mega Yield has become an essential component in some growers feed regime.
Used in conjunction with your normal flowering nutrients, Mega Yield increases flower/fruit size and overall crop yield.

Use together with Mega Yield Gold for even better plant satisfaction. Mega Yield Gold provides plant-stress relief hormones, and helps to uptake and distribute nutrients and carbohydrates throughout the plant- essential for healthy and consistent growth.

Nulife Weight Plus will also help to increase yield and flower size.
Contains specialist flowering hormone and anti-stress formula plus over 40 macro and micro nutrients including the metals copper, zinc, gold and silver.
Used throughout the flowering stage at 5mls per 1L.