Hortitek Light Management Unit 6 On 40A Timer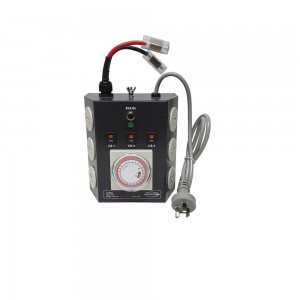 This Light Management Unit is an effective timer designed to handle the heavy demands of high-intensity discharge lights. Built with robust circuit breakers.
Hortitek LMUs are made with quality components and housed in an ultraviolet-resistant enclosure. Hortitek LMUs come with a built-in timer to control the operating hours that best suit your lighting requirements and contain a safety switch.
Hortitek Light Management Unit 6 Outlet 6ON 40A 1PH
6 timed sockets. Phase: 1 Phase Max Amps: 40A. This LMU can supply up to 32A load for 24 hours of operation.
Must Be Hard Wired By a Licenced Electrician