1000 Watt M.H conversion SolarMax Bulb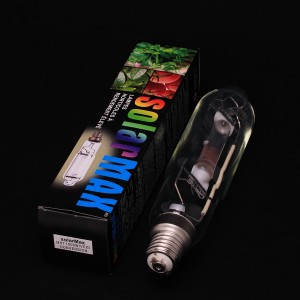 Metal halide conversion bulb runs in both H.P.S ballasts or most MH ballasts.  Ideal for keeping a  mother plant in a vegetative state ,  raising cuttings , or using throughout the vegetative stage.
The Metal Halide bulb emits more of the blue light spectrum ( even though it looks white when going ).  This "blue " light is beneficial for great leaf formation and closer inter- nodal spaces ( the gap between leaf sets ).  It makes a more compact plant.
A lot of growers will run the Metal Halide bulb for the vegetative cycle and just switch the bulb to a high Pressure Sodium (H.P.S.) bulb when flowering commences.  Flowering plants produce bigger blooms when given a high red light spectrum to flower under.  Most horticutral bulbs have more of the red spectrum but still contain some blue to balance the overall light coverage.
 The Metal Halide conversion bulb has all but superceded the ordinary Metal Halide bulb in horticulture as you do not require a Metal Halide ballast to operate it.  Instead it runs on a High Pressure Sodium ballast.
Lumens 90000
Light hours 15000