Lumatek 315W Ballast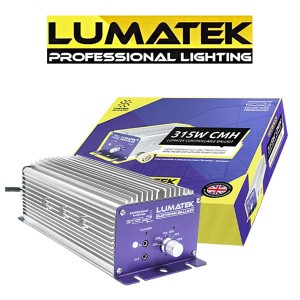 315W CMH Ballast.  Lamp sold separately

315W Lumatek Ballast designed for 315 CMH Lamps, it comes with the necessary e40 adapter so you can use the lamps in traditional Shades
Lamp and Shade not included



This reliable digital ballast has been successfully used in cultivation facilities around the world and uses square wave technology to efficiently fire and operate 315W Ceramic Metal Halide (also known as CMH/CDM/LEC) lamps.
CMH technology creates high energy PAR/PPF levels with low heat at full spectrum which is closer to sunlight and produces healthier plant growth and larger yield. With a CRI (Colour Rendering Index) of >90%, CMH is perfect for growing high-quality produce and essential oil extraction.
This ballast is for use with Lumatek, Sunmaster 315W CMH lamps and is also compatible with Phillips. For safety, this ballast uses full circuit protection including open/short circuit, over-temperature, over/low voltage, end of lamp life/rectification and EMI suppression.
More Light – Less Heat – Full Spectrum – More Yield
KEY FEATURES
High efficiency, energy-saving

Dimmable


E40 Adaptor included

Completely silent and maximum heat dissipation

Soft start technology

EMI suppression

RF shielding

'Soft Start' technology allows us to use very low start-up currents (amps). This is a huge advantage when using multiple ballasts, allowing more units to be turned on at the same time off the same circuit or timer.
Lumatek Digital Control CMH Ballast – 315W | Dimmable | 3 Years Warranty