IntroGro 600W Digital Ballast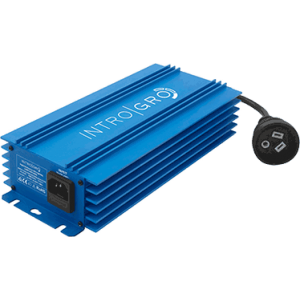 Out of stock...due mid December

Dimmable range of 250, 400, 600, and 600+ Watts
The new IntroGro 600W Digital Ballast is designed to get you growing.
Dimmable and Boostable

250 watt, 400 watts, 600 watts, and Boost settings

Enlarged cooling fins

Built-in safety features and protections

Fully sealed components
ESS and RCM certification
Suitable for HPS and MH lamps
.

DO NOT dim or supercharge the MH conversion bulb

. This may cause damage to the bulb. It can only run on the same setting as the bulb itself.
Protection: Interior fuse, strike failure, thermal

Working temperature range: -30°C/ +50°C
Maximum case temperature: 80°C