HOMEbox HL145L (Long) Homelab Tent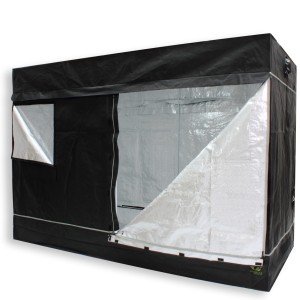 290 x 145 x 200cm     
PLEASE NOTE : THIS TENT IS TOO HEAVY FOR RURAL DELIVERY, WE CAN SEND IT TO YOUR NEAREST CENTRE AND YOU WILL NEED TO PICK IT UP YOURSELF.
This is a premium quality grow tent. 
Silver internal lining, German design.

Homebox are the original grow tents, they are committed to quality and this is reflected in the materials and construction of their tents.
The Homebox Grolab has heavy duty zips, double stitching with reinforced corners and can support 2 x 50kgs from the ceiling.
These tents are easy to assemble, made from highly durable material and even contain a removable floor in case of spillage.
This tent is good for three 600 Watt, two 1000 Watt HID  (H.P.S. or M.H.)  lights or 3 x 9 x 100 Watt LED lights

Has 4 x passive bottom air inlets, front & back door, 250mm roof outlet ( can be reduced as on a drawstring ), 1 x 250mm & 1 x 200mm inlet/outlet on both left & right sides top and bottom (drawstrings), 4 x 100mm (drawstrings) cable ports,   silver waterproof bottom liner. 
Can be used with cool tubes.