HOMEbox HL120 HomeLab Tent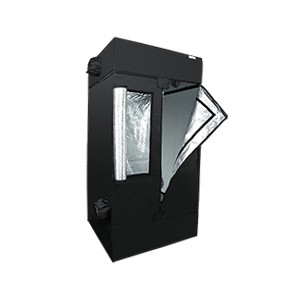 Astounding production in a small space, our most popular size grow tent.
Homebox are the original grow tents, they are committed to quality and this is reflected in the materials and construction of their tents.
The Homebox Grolab has heavy duty zips, double stitching with reinforced corners and can support 50kgs from the ceiling.
Dimensions: 120 x 120 x 200 cm
Growing Space: 1.44 m2
Material interior: premium-grade silver reflective film

Material exterior: waterproof black canvas with increased fabric density

Double-Layered Air Ducts: Get air in and out of your HomeLab without light leaking out thanks to the extra layer added to all air duct ports.

The waterproof coating and light barrier on the zipper contains both light and spillages.

The zipper-pullers are metal

Recommended lighting: LED 9 x 100 Watt unit or 400/600 Watt HID (H.P.S. or M.H.) Light
Exhaust: 5 x 200mm (2 ports for air-cooling of reflector plus 3 additional ports. All ports are double-layered and fully adjustable to fit smaller diameter ducting and equipment)

Cord access: 2 x 100mm

2 x Super clear viewing windows

3 x Passive air intakes with integrated 700-micron bug screens and removable covers
Maximum ceiling load capacity: 50 kg