Shooting Powder Sachet 65g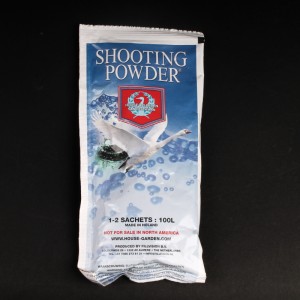 Engineered to trigger your plants into initiating a second cycle of flower and fruit development.
Use in conjunction with a base nutrient.
Works even better with Bud XL and Top Booster.
Triggers a second surge of flowering production during the last 3 weeks of the flowering cycle. Flowers and fruits get bigger
Yield increases of up to 20% can be achieved. Results visible in 2 days.
 - Continuous cell division
 - Builds flowers on flowers
 - High P/K ratio
 - Proven high-yield finisher
 - 1 -2 sachet per 100 litres
 - Available in liquid form as well (Top Shooter)