SolarMax 600 Watt H.P.S. Bulb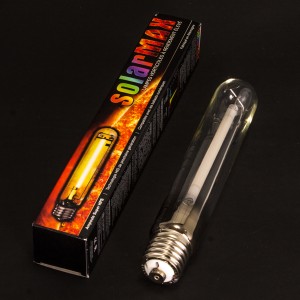 German-made high quality H.P.S. bulb.
As plants approach maturity they require less ''blue light" and more "red" light. The solarmax H.P.S. lamps have been engineered to constantly deliver 10% more targeted  "red" light energy to the maturing plants to promote strong flowering.
Solarmax bulbs put out  more light than standard bulbs. This bulb emits both a blue and red spectrum, so it is suitable for all stages of plant growth.
All Solarmax bulbs are manufactured in Germany by an ISO certified factory with over 40 years experience in H.P.S. and M.H. lamp technology, ensuring high quality & optimised performance.
Solarmax bulbs are designed with the grower in mind
95,000 lumens
24,000 hours lamp life although we recommend that you replace your bulbs every 12 months, as they lose 20% of their power within the first 12 months. You won't be able to see this effect as the lamps seem just as bright ,but your plants will start to grow more slowly. We recommend to write the date at the base of each new bulb before installing it to estimate this lifespan. 
Our best selling bulb. Tried and trusted by many. One year warranty.