Oxypot Deep Water Culture System 19L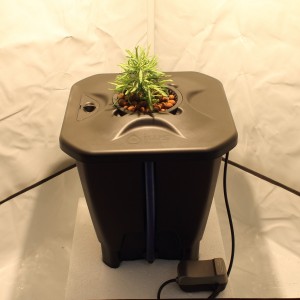 A self-contained Deep Water Cultue system
The Oxypot system is ideal for the grower looking to achieve higher rates of growth with less hassle. Deep Water Culture (DWC) systems allow growers to tailor their root zones to ideal conditions, allowing for faster and stonger growth, without the hassle of water pumps and plumbing.

The Oxypot has a water gauge that allows the user to see the level of water in the reservoir without having to disturb the plant. It is recommended to change the water/nutrient solution completely every 2 weeks to ensure the plant receives adequate nutrition. Failure to do so may lead to a toxic build-up of nutrients the plant does not require. For the best results, keep the water temperature between 18 degrees celcius and 26 degrees celcius.

This system includes:
one 19L reservoir and lid,

one 140mm black mesh pot,

one single outlet air pump,

one 50mm air stone ball

approx. 1m of air line.