GreenDream-1 5L Flairform New Formula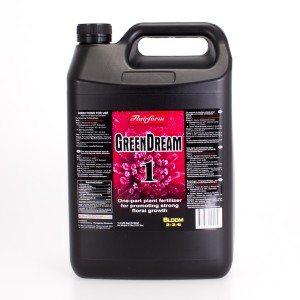 New Formula!   Grow and bloom in the one bottle.  Hydroponic 1-part nutrient. No longer a slurry so little shaking required.

GreenDream -1 (improved formula 2021) is a homogeneous 1-part base nutrient that provides vigorous growth from seed to harvest.

 GreenDream-1 is ideal for commercial cropping in hydroponics, coco and soil:
GreenDream-1 is a single-bottle that runs from seed to harvest. This is ideal for larger grows and simplifies inventory management.  Use of PK additives during flower will offset the need for a separate grow and bloom nutrient. 

Is completely soluble, runs extremely clean and has exceptional long-term stability. It is also capable of handling very hard and salty waters without unwanted issues such as blocked filters and drippers.

Does not require shaking and is compatible with auto dosing equipment such as Dosatrons.

Has greater pH stability than most 2-parts and can tolerate higher pH levels than regular base nutrient formulations.

Formulated from high purity mineral salts and chelated trace elements such as iron-DTPA.

Available in 1L, 20L.

Dose rate 3-5ml/L (11-19ml/Gal)

Technical:

Click here

to view product labels, feed charts, brochures and MSDS
.