Classic Flores A+B 40L (2x20L) Canna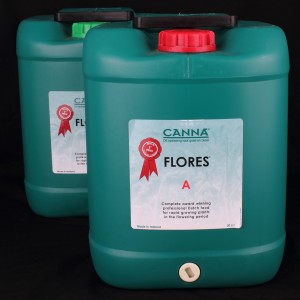 Premium quality nutrient for fast-growing plants containing all the essential elements for optimal flowering. 
Made in Holland.
N - P - K: 5 - 2 - 8

Classic Flores is easy to use, dissolves immediatley and is extremely suitable for automatic "run to waste" systems.
Shake well before use

Fill the nutrient resevoir with water

The advised dilution rate of Classic Flores is a ratio of 1:250 (4ml part A and 4ml of part B to every 1 litre of water)
-First add Classic Flores A to the nutrient resevoir
-Stir well, then add Classic Flores B to the nutrient resevoir
-Again, stir well and let mixture sit for some time
The EC of Classic Flores dissolved in (tap) water should vary between 1.7 - 2.3 mS (=solution EC + water EC)

Recommended pH: 5.2 - 6.2