Flood and Drain Tray 2000 x 1240 x 150mm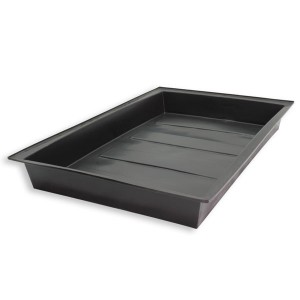 Volume approx. 372 litres. Made from polyethelene.

A very strong rotationally molded tray that can be used instead of individual trays under single pots. 
Can also be used as a reservoir for bottom-feeding of plants, allowing for the greater time between waterings. If used in this way, the plants must have a bottom layer of pumice in the pots higher than the tray's water level. 
This means that even if the plants are sitting in water they will not be waterlogged.
This is a very large item to ship and can't be delivered by rural delivery.
Can send to the freight depot at your nearest main centre if need be.
We will email you the freight cost which will need to be paid prior to shipping.

Approximate freight costs nationwide (non-rural):
Whangarei to Rotorua $75
Rest of North Island $120
South Island  $180 - $230