Cree LED 1 x CXB 3070 Unit
CREE CHIP CXB 3070. Power draw 59w per hour
Upgrade your 150W CFL with this 60W LED and get better results.

A market leader in LED technology CREE chips has a high reputation in the indoor gardening world. This unit houses the CREE CXB 3070 Chip which has an impressive board spectrum providing plants with light close to that of sunlight. The appearance of the light is natural.
Has a serial link (daisy chain) on the back of the unit allowing you to connect multiple lights together. Comes with short hanging wires.

Below is the spectrum provided by the manufacturer, high amounts of red for flowering and good levels of blue for vegetation makes this an excellent option for indoor gardening.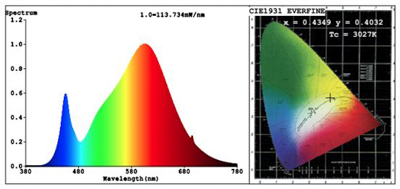 LED Chip: Cree CXB 3070
Colour Temperature: 3000K
Unit Size: 180 x 180 x 85mm (H)
12 month warranty