CMH 315 Watt Cultiv8 Bulb + Ballast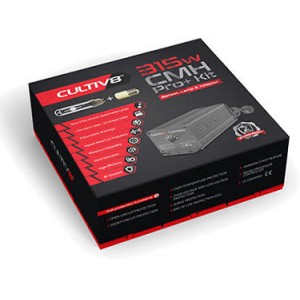 Ceramic Metal Halide, broad light spectrum output.
Ceramic Metal Halide is becoming more popular in the horticultural industry. The CMH lamps have a very broad light spectrum which is more similar to the sun itself than any other form of HID lamp. The CMH fixture can be used as a primary light for vegetative and flowering or a supplemental full spectrum light for an existing HPS lighting setup.
CMH 315 Single Lamp Fixture vertical mounting position provides an even-light footprint. Can be used with any 315W 3K or 4K horticultural CMH lamps from all leading quality brands. 
This product includes
1 x 315w CMH Cultiv8 ballast,

1 x 315w CMH Cultiv8 Lamp


1 x E40 lamp adaptor. The adaptor allows the bulb to run on any standard shade. 
Shade not included

Cultiv8 315 watt CMH Ballast
Adjustable wattage (160, 190, 220, 250, 280, 315 watt)




Square wave, Low Frequency Technology

Australian Certified RCM Compliance

2.5 metre output lead

1.5 metre input lead (hard-wired for optimal performance)

 year warranty
Cultiv8 315 watt Lamp
930 / 3100k Full Spectrum, High Output

PAR Value 625 µmol/s

CRI 90+

1 Year Warranty
Cultiv8 E40 Lamp Adaptor 
High Quality Ceramic




Deep Socket to Ensure a Tight Lamp Connection
Please note that adjusting the height of the CMH unit while the bulb is still hot may result in DAMAGE to the bulb. It is important to make any height adjustments to the unit while it is COLD.
This applies to all brands of CMH lights.