Terra Professional Soil 50L Canna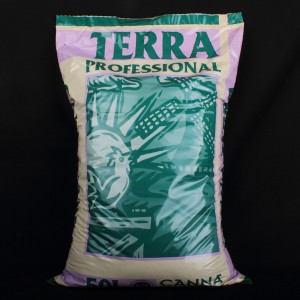 High-quality Dutch-designed soil. Processed in Holland.

Shipped in a black bag in a white sack (or a carton ).
Price rise due to increased freight costs.
Terra professional is a growing medium or soil substrate that combines several selected high quality types of peat to form an impressive plant growing medium.  It has added Perlite to improve the air - moisture ratio..  Carries the RHP stamp of approval. Has a small amount of fertiliser added, enough for the first couple of weeks and this doesn't interfer with your normal feeding regime.

I have had excellent reports from  long standing customers with this mix. It's expensive but delivers satisfying results..Keith Millar
FREIGHT urban.  Rural delivery extra $6.23

Auckland 
1 x bag $6.55

Outside Auckland to Whangerai / Opotiki / Otorohanga 
1 x bag $9.55
Rest of North Island       
1 x bag $12.58
South Island       
1 x bag $20.15
Larger orders are much cheaper. Ask for a freight quote.