Grostorm 1L Flairform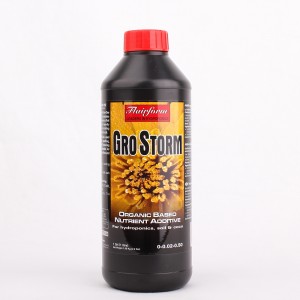 Promote plant vitality, yield, and quality. GroStorm is an organic compilation of kelp, fulvic and humic acids, plus vitamins.
Made from marine extracts, Flairform Grostorm is an additive designed to be used from seed right through to harvest. Grostorm provides the grower with organic compounds essential for vigorous growth and maintaining plant health.
Suitable for all mediums, soil, coco, and hydroponic
Growstorm is used at a rate of 1ml (cuttings & seed) to 2.5ml per litre of water through the veg and flower stage.

N-P-K 0-0.02-0.50
(N-P-K is a representation of 3 major elements in a nutrient from the composition by weight. N = Nitrogen, P = Phosphorous, K = Potassium)