Yates Sprayfix Wetting Agent 200ml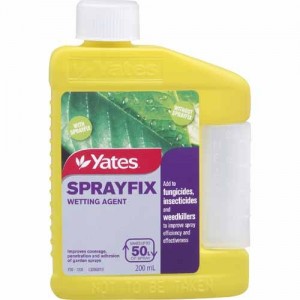 Helps stick insecticide spray to your plants.
Features
Spreads and sticks spray to the plants surface, especially leaves

Improves spray efficiency and effectiveness when mixed with spray

Can be used with fungicides, insecticides and weedkillers

Useful when spraying plants with hairy or waxy leaves which are normally difficult to wet

Can be used on a wide variety of plants including citrus, apples, plums, peaches, roses, cabbages and onions

Makes up to 50 litres of spray
Insecticides and fungicides: Add 25ml per 5 litres of spray mixture.
Weedkillers: Add 20ml per 5 litres of spray mixture.
Add Yates Spray Fix Wetting Agent to spray mixture last to avoid excessive foaming.
Ingredients: Sprayfix is a non-ionic surfactant containing 50g/litre alkylaryl polyglycol ether.